A Story of Printing an Angler-Fish
Our big fan, from Facebook @Montgomery Haverton, shared with us his experiences and some lessons of printing assembled models on

Anet ET4X

. Here you can see a process of how a man full of exploring spirits reached his first successful assembled work, angler-fish. We're sure everybody can learn something practical while also be touched by his story.
Although printing all-in-one pieces is both fun and instantly rewarding, I have recently discovered that the art of printing and assembling multiple STL files into one piece has a reward and a challenge all its own. In taking on this endeavor, I made the mistake of thinking that I was more skilled than I really was, and I decided to take on the challenge of printing and assembling an 18-piece replica of "4" from the movie 9. The pieces ranged dramatically in size and required all different settings in order to create them correctly however this was not where I ran into problems. If you can print one piece, you can print a million. The problem was the assembly. I didn't know the materials or tools that I would need, and I failed miserably. As you can see in the picture below, I broke his hand off (you can see it used as a stabilizer for the staff), His head continued to become detached, and nothing seemed to want to stay together. This is because I was using a 3D pen and a box cutter to do the adhering and the fine detailing. BIG MISTAKE!! 3D pens serve their purpose in other ways, but not in this case.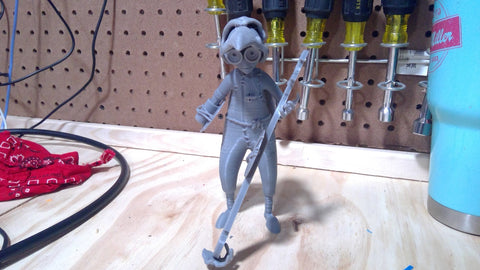 Fast forward to my more successful endeavor. I found an incredible STL file on Thingiverse of an angler fish that I loved, but I wasn't a fan of how the original designer finished it, so I put my own twist on it. Here is the original build that took about 15 hours to print.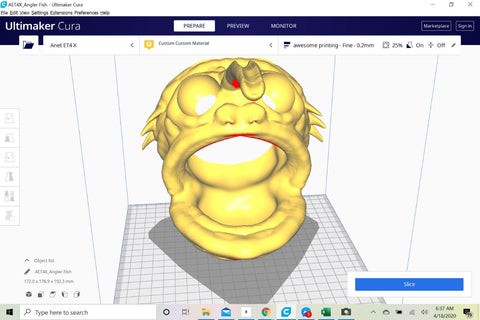 I printed this with orange PLA at 225/65 and it came out perfect. Once it was printed, I decided that I was going to turn it into a lamp with a fully functional 12-volt light bulb as well as eyes with LEDs in them and teeth that portrayed this hideous beast in the manner that he deserved. So, without going into details on the electrical circuitry, I am going to share the very simple, but very important lessons that I learned in building this.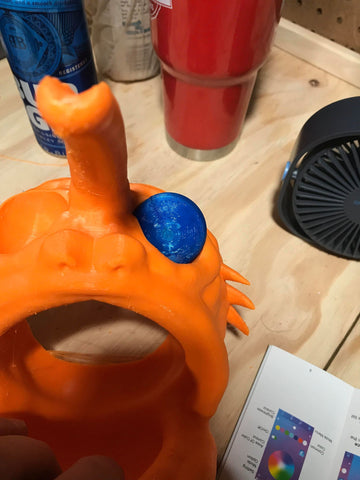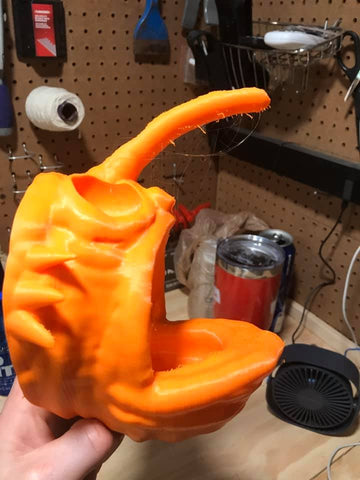 First, I learned that super glue works way better than a 3D pen to make PLA stick to PLA. USE SUPERGLUE!! Just be careful not to use too much because when it dries, you will see the white residue that it leaves on certain colors. Next, buy a Dremel if you do not already own one. This tool is instrumental in fitting parts where they need to be, smoothing out rough edges, overcoming any obstacle that you will face in this process.
Lastly is the paint. It's very simple. If you are not talented in the art of painting very intricately, please, please, please paint all of you parts separately before assembly. I recommend priming any PLA before you paint it or use a paint/primer mixture like I did with this Angler. It took two coats and then another quick coat after drilling for the teeth.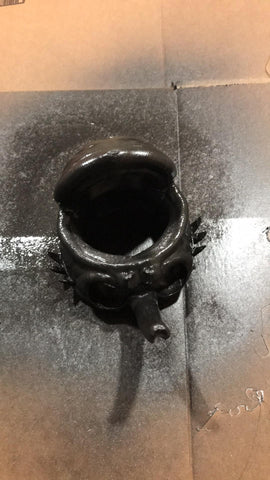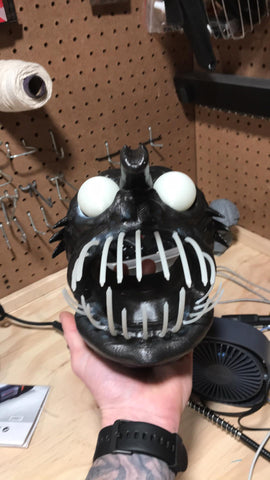 So those are the very basic tips that I have based off what I have learned in my short tenure as a 3D printing enthusiast. Shout out to my South African mentor IAN FROST for the tooth and eye STLs. He is the Master!!